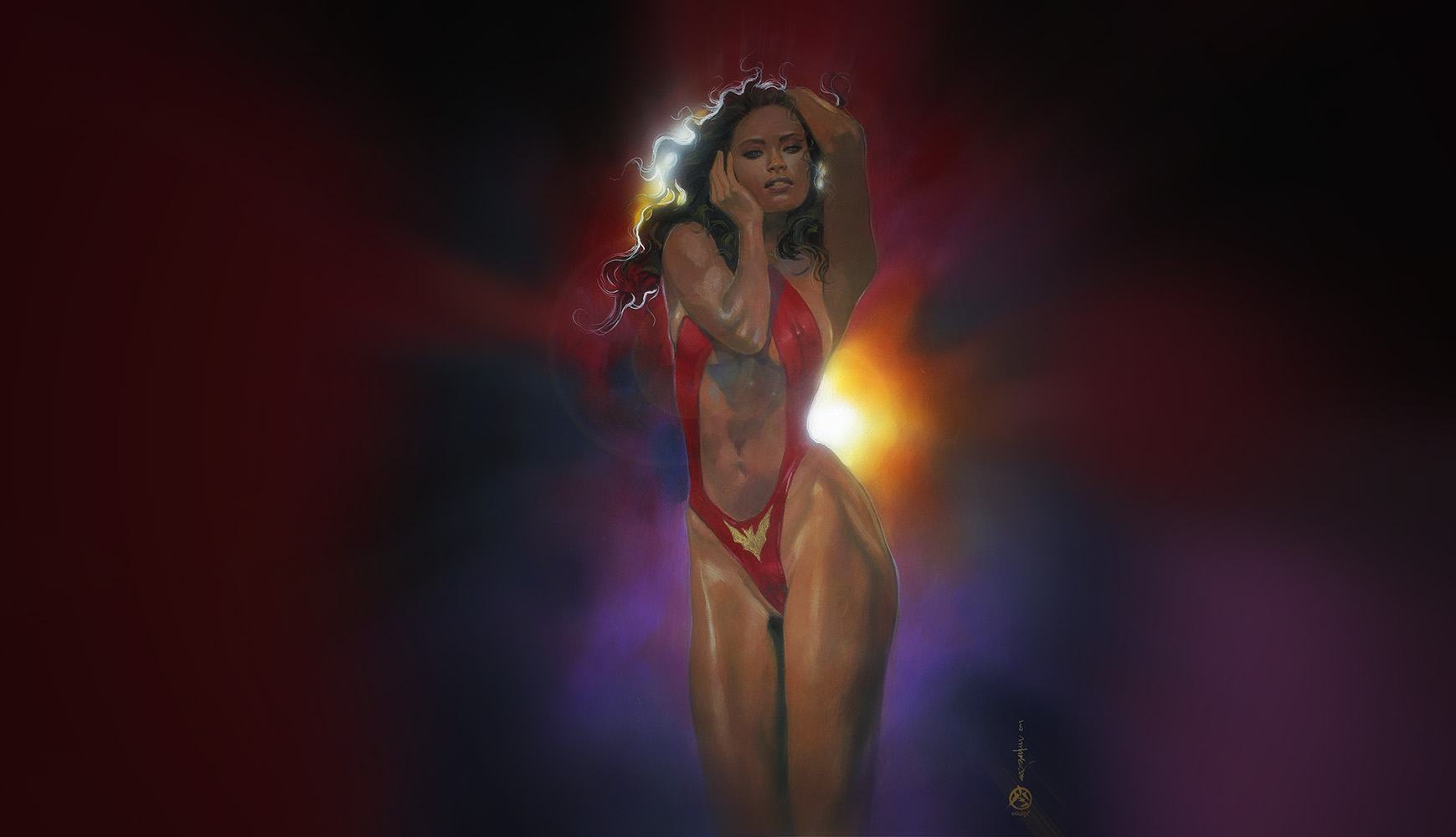 Mark Beachum turns up the heat with sexy alternate VAMPIRELLA cover for feb 2020 Black History Month
"It's a significant and unique gesture on Dynamite's part to work with me to acknowledge the contributions of African American artists in this industry with a set of covers exclusively developed by artists of color," said Priest. "Both my veteran buddies and inspiring boundary breakers creating their own unique expressions of our favorite Vampiri."
Priest and editor Matt Idelson gathered the team of Mark Beachum, Denys Cowan, Alitha Martinez, and Afua Richardson to contribute their covers based on a simple premise: Imagine creating Vampirella in 1969 as if her appearance was inspired by African American women rather than the Bettie Page/Barbarella approach of James Warren, Forrest J. Ackerman, Frank Frazetta, and Trina Robbins. In addition to each artist's rendition, cosplayer Mai joins the group for her own cover.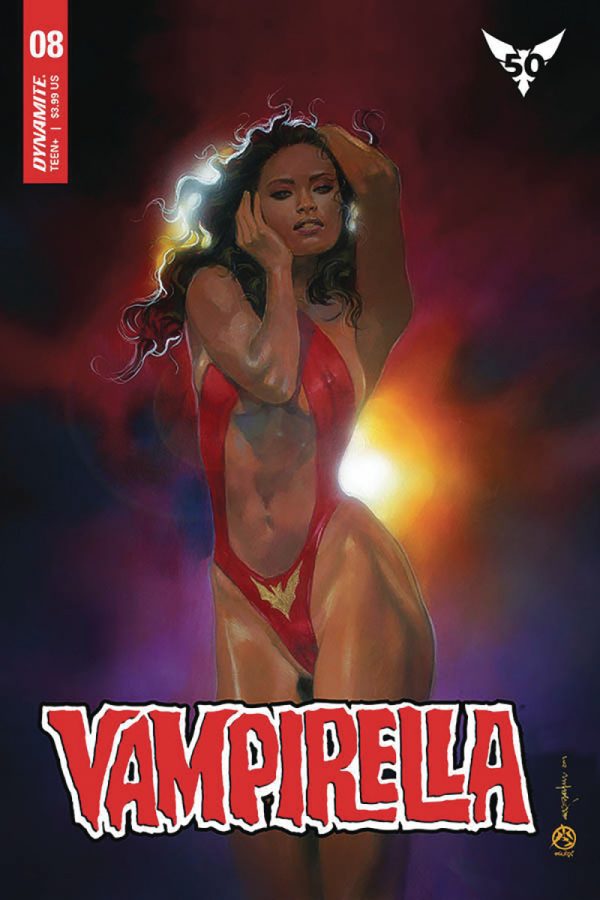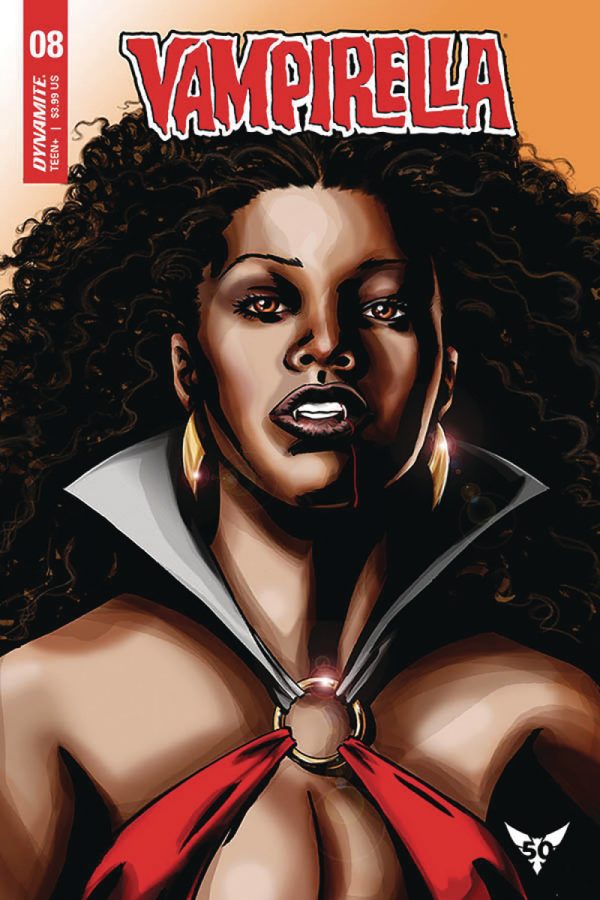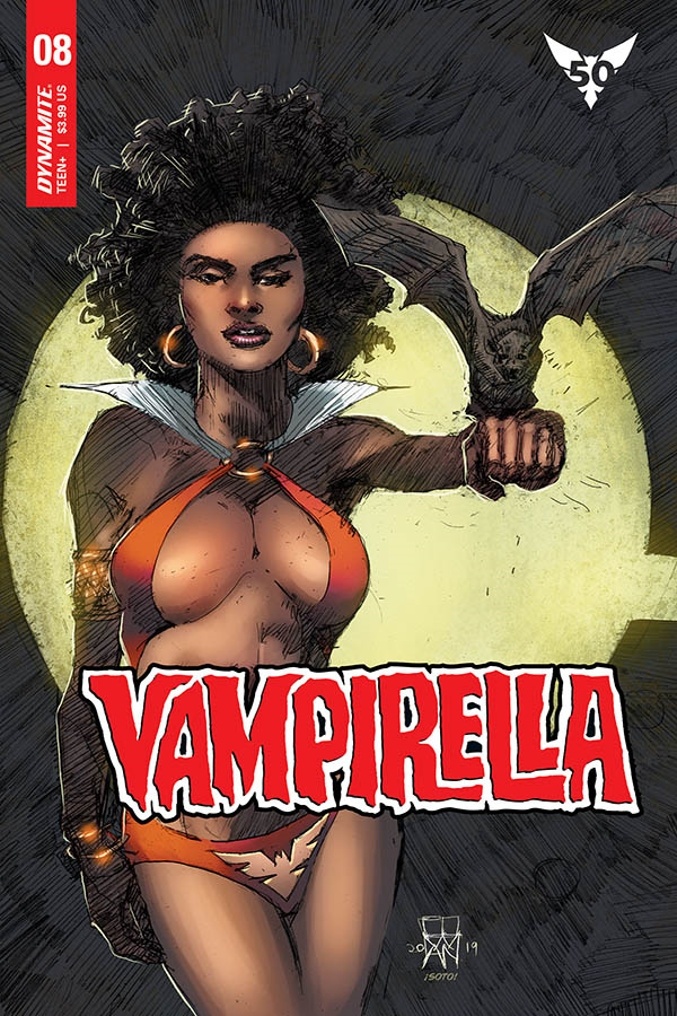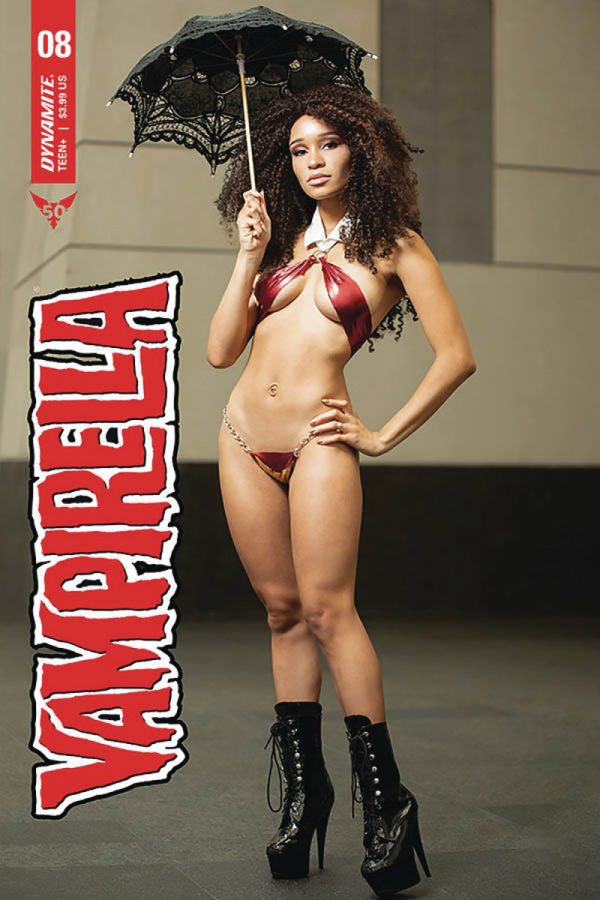 Cowan said, "It's always great to work with Mr. Priest and I've always been a Vampirella fan! I love the older covers and loved the black and white interior art from the 1970s. This was a wonderful opportunity to reconnect with a favorite character in a different way."
Martinez, one of the most prolific African American female artists, said, "Vampirella is one of those iconic characters who you instantly recognize. In reimagining her I had to try to preserve what made her so viable. For me, it wasn't her body but the strength and beauty of her face, and touch of danger in her eyes. While her raven hair is a princess of darkness staple, there's something magical about textured hair, like a crown for a queen, that begs to be touched. We should want and fear vampires at the same time."
Mark Beachum, perhaps one of the most unsung innovators of erotic femme iconic imagery is returning to Vampi after having done some of the sexiest covers for the Harris era. Dynamite is representing him and Louis Small Jr. as "Icon Incentive" covers.
Dynamite asked Mark Beachum a few questions to help them put together their press release and here is what he had to say:
Your professional history and relationship with Priest, across your early Spider-Man work and to this day
Priest is the only editor that I vibed with; being young, black and male we had similar issues in dealing with the hazards of the comic book industry. We both had an interest/background in music and performance. Meeting and working with him on the handful of spider-man projects we did was pretty cool and the two annuals featuring Ace are probably the only mainstream stories I am proud of. Over the years Priest would extend opportunities when he could, being that I can be a wildcard and not the best tool to use when one's footing is uncertain. I think it might be fair to say that we had a similar response to the politics of the industry and segued to other things.
Your connection to Vampirella, as a returning creator and perhaps as a fan?
I was about 10 or 11 when I discovered Vampirella/Warren and the international cast of artists that expanded my interest in art beyond the bandwidth of mainstream superhero comic art: Esteban Maroto, José Ortiz, Luis Bermejo, Rafael Aura León, Jose Gonzalez, Alex Toth, Russ Heath, Jordi Bernet, Fernando Fernandez, Ramon Torrents, Rudy Nebres, Gonzalo Mayo, Leo Duranona, Frazetta, Vaughn Bodé, H.R. Giger, Sanjulián, Richard Corben and Enrich Torres were like a huge crew of brilliant art teachers showing me what was possible. Shortly Heavy Metal sealed the deal with the amazing unrestrained expression by visionaries like Druillet, Moebius, Caza. I would say that Vampirella functioned as a landmark that provoked the modern era of comic book artists and writers to expand their ambitions and try to create an adult audience where the comics medium did not have to restrict itself to the frameworks of a marketplace for adolescents. This is what inspired, has sustained and continues to instruct me to this day.
What it means to you to be brought in by Priest for this special cover concept.
I see this cover as a salute to the audacity and verve of a perspective we have in common: creative survivors with new heights to reach.
"Vampirella is as provocative as she is powerful," explained Richardson. "I love how she's evolved through time. You didn't see a lot of lady heroes in 1969. But Trina Robbins was always great about making mighty maidens who didn't need saving. Now she's in the hands of Christopher Priest who always has an amazing way of breathing a new life and perspective into legacy characters. I'm honored to be a part of this."
Fans of series regulars will still have their pick of covers from Guillem March, Fay Dalton, Ergun Gunduz, and Lucio Parrillo.
"Christopher's work on this series has been astonishing, his ideas continue to grow the tapestry of Vampirella as an iconic comics character right up there with the greats," said Nick Barrucci, Dynamite Ceo and Publisher. "This initiative he came to us with was too exciting to not get behind 100%."
Vampirella #8 will be available for preorder in December and is slated for a February release. For digital, head over to Comixology, Kindle, iBooks, Google Play, Dynamite Digital, ComicsPlus, and more. Check out Dynamite's website for more on the series.
Related Posts